Master L celebrated his 5th birthday yesterday. None of us can still believe just how fast the last 5 years have gone. To think that our little 'Miracle Baby' conceived with the help of a fertility specialist after waiting what seemed like an eternity, is now 5 and the big brother to two little boys, and another baby (which he thinks is a girl!) on the way.
He has lighted our lives so much, and continues to do so every day. Such a funny boy, some of the things he comes out with, definitely shows he has been here before. There is no way he could know as much as he does otherwise LOL
His birthday started at 6:30am, with him coming in and waking me up saying 'Mum, have you forgotten what day it is today, you haven't said Happy Birthday yet!' What he didn't know is, at Midnight, I went in and gave him kisses on his forehead and wished my baby a very happy birthday and also hoped he was having the sweetest dreams before his big day.
He LOVED his presents. Lego, a LeapFrog Tag Reader and 2 books, more Lego (we are very much into that right now, its so cool!) and he favourite out of them all, a new Diego Wii game. The look on his face when he opened the paper was priceless. Then his words were... 'Oh My Gosh, I cannot believe you did this for me, this is amazing! Thank you so much Mum and Dad'. How on earth can you not want to give them the world when you get responses like that?
After breakfast they boys started playing the Lego and having a play with the Tag. He then started playing Diego (and of course, was a pro from the very start LOL) while I go everyone dressed and ready to go out. What he didn't know was we were going out to lunch to Sizzlers. He had been asking if we could go out there for his birthday dinner, but we wanted to do lunch instead as its just way to crazy there at night time. When we drove into the carpark, Nan, Grandad and GiGi where already there (which was good, cause he saw them and didn't actually see where we were LOL). We had to ask him to look around and it finally dawned on him, he was SO excited!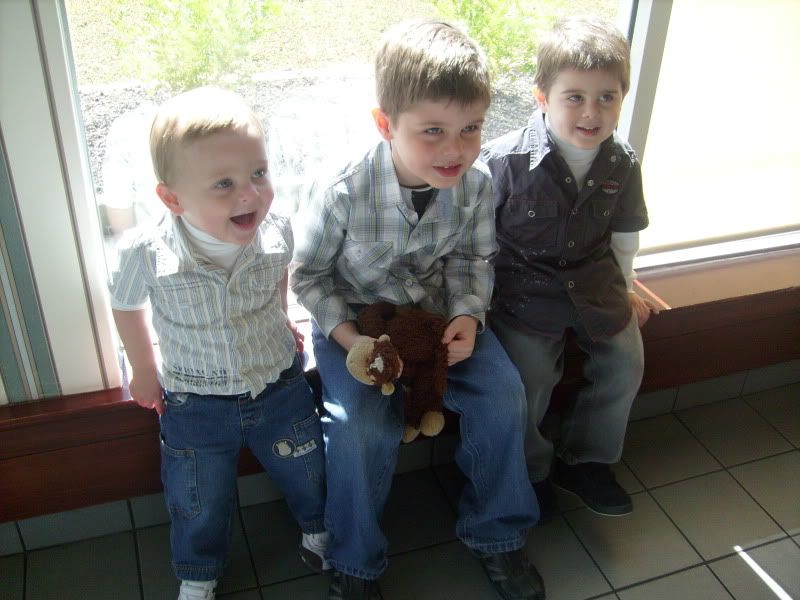 The three cheeky monkey's waiting to be seated at Sizzlers
Lunch was good (well as good as Sizzlers can be) but we had fun and that was the main thing. Back home afterwards for some cake that was lovingly made once again by Nan....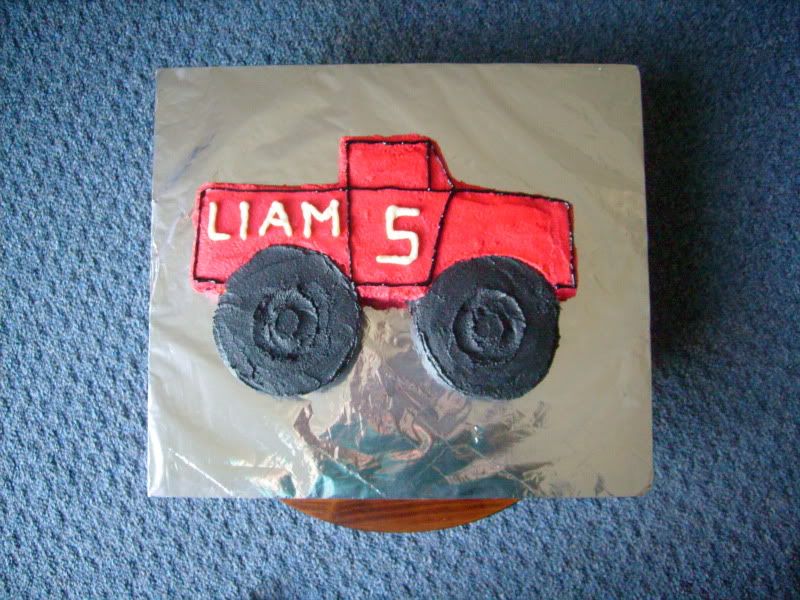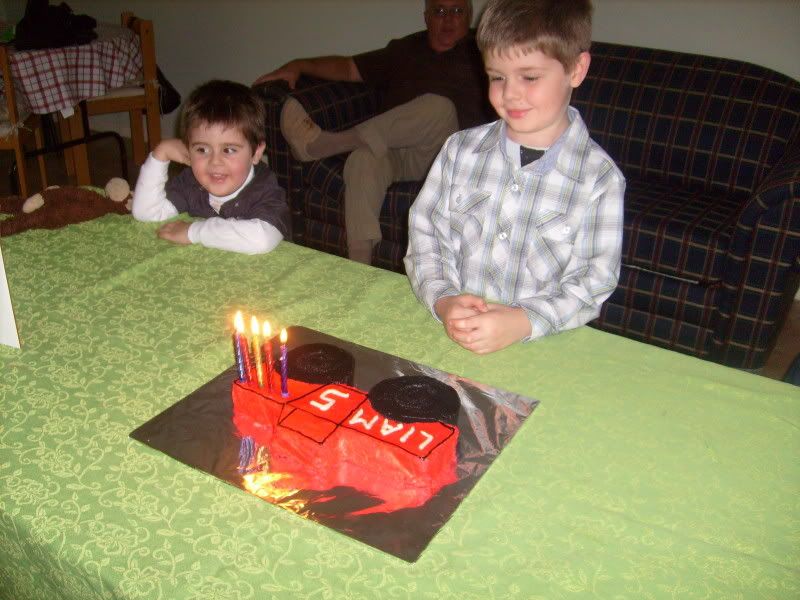 It really was a great day, but most of all, our BIG little man had an awesome day. He says that he definitely feels like a 5yr old now LOL Me, well I don't feel like the Mumma of a 5yr old, to me he is still my wee little baby who grew up way too fast!