Wow, 13wks today. Some days it feels like its going slowing, and yet these Wednesday's seem to come round awfully fast, signaling a new week. Well pregnancy week anyway LOL
All has been going pretty well. Morning sickness has been so good for the past week, yet today seems to have reared its ugly head again. Oh well, its all good as it makes me feel like there is something still going on. Yes, at this stage before movement its hard to actually feel pregnant, if that makes sense?
Been thinking lots and doing research into my options in regards to labour. I was told by the Ob who delivered Master P that I would have to have a caesarean if I got pregnant again. Well, I really hate it when people tell me how to handle my body, especially when it may not be necessary to HAVE to do it. I've read lots lately of women having VBA2C, (vaginal birth after 2 caesareans) and since i've already had one VBAC i'd really like to try for another. It's not like my body CAN'T give birth, the circumstances surrounding the last caesar was mainly due to the Dr.
I also know that there are many around who might think i'm absolutely crazy to not just 'go with the flow' and give into having the caesar, but after the horrible trauma I was put through with the last one, I really don't want to just lay down and let someone who has no idea about my body make the decisions.
I'm sure next Thursday at my Ob appointment will be an interesting one!
Anyway, I know last week I said i'd post a belly pic, well I didn't end up getting one taken BUT I took one tonight so I shall post it instead!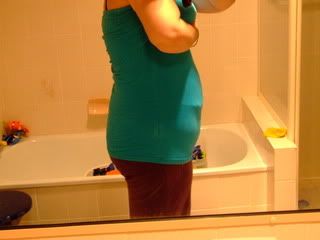 My pants are certainly starting to notice the difference as my belly grows, wonder if this means i'm going to be huge this time LOL